I'm so excited about introducing you to my newest blog Sponsor: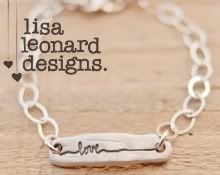 I could not be more excited that she has joined the Rags to Stitches family.
Lisa is one of the most inspiring, honest, genuine women I have ever had the privilege to know. Even though I've never met her in real life, after following her blog for years I feel as though we are good friends. I love sitting down with a cup of coffee in the morning and pulling up her blog to see what she's wearing for What I Wore Wednesday, enjoy pictures of her beautiful family or seeing the newest personalized items in her shop.
If you haven't read her blog I urge you to bookmark it and make her journey a part of yours. You won't be sorry!
Here's a little more about my dear friend Lisa, in her words.
Tell us a little bit about yourself and your shop.
I'm Lisa—a mom to two sweet boys, ages 9 and 7 and wife to Steve. I'm the creative type—AKA unorganized but finding lots beauty in life. I create beautiful, meaningful pieces of jewelry and also custom gifts for weddings, babies and every day. Our team works hard to make sure each piece is made with care and will warm the heart of the person who receives it!.
What is your favorite piece in your shop and why?
Oh this is such a hard question. Each piece in our shop is special to me and holds meaning. The pieces I've been wearing lately are the family tree necklace—with my kiddos names, the sun droplets necklace—so sweet and simple and the devoted bracelet.
I love the ocean—I think it feeds my soul! Also, cuddling with my boys, eating healthy fresh foods and thrift store shopping make my heart full and give me lots of ideas.
What is your favorite ice cream flavor?
That's easy! Chocolate malted crunch from Rite Aid. Now I'm craving it!
Where can we find you?
Lisa has generously offered to give 2 of my amazing readers a $50 Gift Certificate to her shop! I'm so excited! I'm tempted to create false name so I can enter. #justkidding
Here's how to Enter:
Mandatory: Please make sure you are a public GFC follower of Rags to Stitches


– Head over to Lisa Leonard Designs and come back and tell me what you would purchase if you were the winner.
Extra Entries:
– Like Lisa Leonard Designs on Facebook
– Follow Lisa Leonard Designs on Twitter
– Sign up for Lisa Leonard's Newsletter
– Like Rags to Stitches on Facebook
– Follow Rags to Stitches on Twitter
– Tweet about the giveaway, be sure to use @ragstostitches and @lisaleonard
– Facebook about the giveaway.
Please leave your email address (in case you win) and a separate comment for each entry.
Since I love my readers so much, I'm going to give you a whole week, yup 7 days to enter this amazing giveaway. There's 6 chances to win!
Good Luck!!
Giveaway ends next Tuesday, September 27th at 12 Noon PST