Friends, I'm so excited to introduce you to Laura from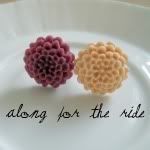 I'm so excited to have her as the newest member of our
Rags to Stitches Boutique
family.
Tell us a little bit about yourself.
Hi there! I'm Laura and I'm along for the ride! No, literally, I am. Along For the Ride isn't just the name of my blog and handmade shop, but it's how I see my walk with the Lord. I am along for the ride He has planned for me, and what a glorious ride it is! During the day (and lots of times at night) I spend my time running a residence hall on a college campus. My husband and I live in the hall and our neighbors are 400 loud, silly, messy, wonderful college students.We have a kitty baby named Jupiter that shares our little apartment. When I'm not working in the hall, I spend my time with a glue gun in hand, making lovely things for my shop. My motto is "keep is simple" and I try to make simple, beautiful accessories that aren't too dramatic or fussy, but add just a pretty touch of whimsy. "Keep it simple" is my motto for my life as well and I blog a lot about the simple, little, imperfect things that make life sweet.
What's inspiring you right now?
The thought of fall is inspiring me! I adore the crisp weather, snuggly sweaters, and all the beautiful autumn colors. My husband once told me that I embody the word "cozy." I think that was the nicest compliment anyone has ever given me.
Favorite kind of ice cream?
Cookies and Cream please.
Tell us all the wonderful places we can find you.