Happy Thursday friends!!
Friends, today I'd love for you to meet Jana from Giggle, Glitz & Glam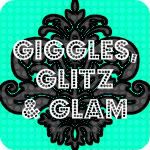 Jana, meet my awesome readers.
I met Jana several months ago on Twitter and have loved every minute of getting to know her. I've even had the opportunity to share my testimony over at one of her amazing blogs Thirty One:10. I'm so excited she's for her and her hubby, they are going to be first time parents in November of this year. YAY!! Don't for get to go give her some love and follow her blog.
Tell us a little bit about yourself and your shop


My name is Jana and I am an expectant mommy! Before I got pregnant I decided to start a business I could work on as a SAHM which is part of how my shop started. I found a tulle headband in a boutique that I wanted for my niece but wasn't willing to pay for. I was determined to make it and before long I was making not only the headbands but tutus too!
What's inspiring you lately?
Is it sad that I just jumped onto the Pinterest band wagon? I mean I've had it awhile, but never really understood it. So within the last week or two I've become addicted. My recent thing to look at is things I carry in my shop for photography ideas. I am hoping to shoot all of my shop items again and needed some serious inspiration.
What colors are inspiring you right now? What do those colors say about who you are?
Something about the combo of bright colors. One day it's aqua and hot pink, then orange and turquoise. I just can't get enough of all the great BRIGHT color combinations. I think that says, the bright colors tell you that I'm a little bit crazy, super happy and uber fun! 🙂



Favorite Ice Cream Flavor?
Double Fudge Brownie
I'm so excited that Giggles, Glitz & Glam has joined the Rags to Stitches Family. Be sure to check out her:


Blog, Shop, & Twitter