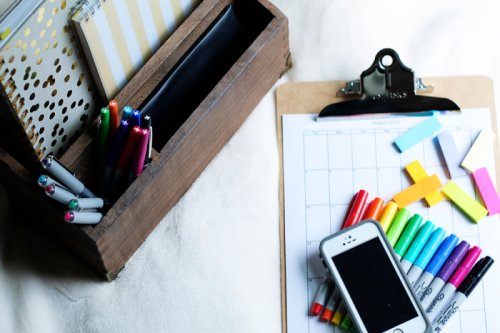 photo credit
Are you ready to send your kids back to school with the latest and coolest supplies? Or maybe you're looking to provide your class with the essentials for a great school year. Whatever your back to school needs are, Office Depot has you covered.
We're excited to be partnering with Office Depot to talk about how you can encourage and inspire your kids in and out of the classroom and how you can stock up and save on great school supplies when you shop. During the party we'll be sharing ideas on how to stay organized in and out of the classroom, how to create fun back to school teacher gifts, and how to make sure all your back to school and office needs are met this year!
Right now you can shop at Office Depot and get $5 Off your purchase of $20 or more on Select Newell Rubbermaid Brands (PaperMate, Expo, Sharpie, uni-ball, & Mr. Sketch). If you head into Office Depot this week, all Sharpie singles are on sale for just .25 cents! And next week they've got great deals on select PaperMate & Sharpie products. Who doesn't love saving on great school/office supplies?
So don't forget to r.s.v.p and participate in our Office Depot Back to School Twitter Party where you could win 1 of 4 awesome Office Depot gift cards!
DETAILS BELOW:
When: Tuesday, August 26, 2014 from 8-9 pm EST (5-6:00 PST)
Where: On Twitter, using the hashtag #inspirestudents
Who: Be sure to follow our hosts @PollinateMedia, @FashionistaMMC, and @jenhatzung
TweetDeck: We recommend following along using TweetDeck for the party. Search for our #inspirestudents hashtag + add a column to follow along
Prizes: During the party we will be giving away 2 $25 gift cards to Office Depot, 1 $50 gift card to Office Depot, and 1 $100 gift card to Office Depot.
We've also made it easy for you to let your followers know about this twitter party. Just copy and paste the tweet below.
Share how you encourage your child to learn & prepare them for school 8/26/14 8pmEST RSVP http://bit.ly/1uXaJfJ #inspirestudents#pMedia
Please RSVP using the link below (enter the URL to your Twitter profile) to be eligible for a prize. All winners will be chosen randomly from the RSVP list. Winners must be present and participating during the party to be eligible to win a prize. Be sure to follow the Party Hosts, along with using the hashtag in every tweet about the party.
R.S.V.P. BELOW FOR THE OFFICE DEPOT/OFFICE MAX BACK TO SCHOOL TWITTER PARTY ON AUGUST 26th!