A few years ago Kyle and I were privileged to meet the Miller family. They had moved to California to help plan a church in Long Beach. A church plant based out of a church in Orlando, FL. After being out here for almost a year, they felt the Lord calling back to Orlando, FL, and back to YWAM (Youth With A Mission). Over the years we have remained friends with them. Recently, Rachel mentioned on Facebook that she had started a blog, The Paxton Project, so people could walk with them through the journey they are about to embark on… adopting a second child from Korea. Costs are quite a bit higher than they were when they adopted Tysen…. the total comes to $30,000. After reading through her blog, I felt God calling me to help and before I knew it I had emailed her and all my small business contacts talking about doing a raffle that could help raise money towards the adoption.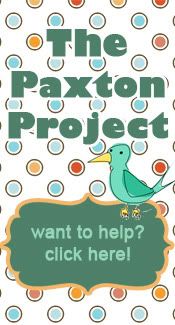 was born! So far we have 28 amazing vendors participating and ALL the proceeds will go to the Miller family.
Here are the details if you want to be involved:
Dates: February 28 – March 4, 2011
Time: All week long
How to participate: there will be a suggested $5 donation per entry to win the prizes available. More details will be on the blog before the event starts.
If you want to participate by donating money to the couple, you can do so by clicking
HERE
and it will take you to my Rags to Stitches blog where you can click on the "Donate Now" button in the top hand side of my side bar.
I hope you will check out the
Miller's story
and join in The Paxton Project.
I hope you will help too!
Love, Alissa